Champion Pneumatic Machinery Co. Photo Album - 1924-1925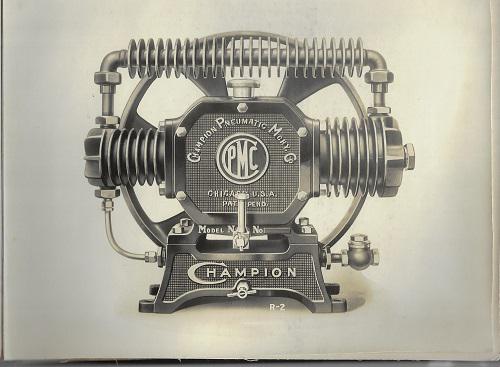 CHAMPION PNEUMATIC MACHINERY CO. MANUFACTURERS TWO STAGE AIR COMPRESSORS AND HIGH GRADE AIR LINE SPECIALTIES. A Salesman sample catalog with over 30 linen-backed original silver gelatin photographs, most with product information in pencil on verso, a couple with photographers stamp on verso, or lower part of negative image. Also includes price list No. 107 and trade discount list, No. PS-110. Chicago, Ill. Champion Pneumatic Machinery Co. 1924-1925.
Three pieces. 1st -- Oblong 11.5 x 8 in. 31 linen-backed silver gelatin photos (1 hand-coloured in red), each mounted on linen hinge, nearly all w/ pencil annotations & pricing on verso, product numbers in lower part of negative, preserved in original limp black simulated leather post-binder, tied at gutter margin w/ black braid as issued, white lettering on front cover (some rubbing, minor soiling, edgewear, occasional foxing to linen backs), still an excellent exemplar; 2nd - 4 pp (unpaginated), printed in red & black, litho image of Champion compressor on back page (slight shelfwear), NF; 3rd -1 leaf broadside, printed in black on orange paper stock (minor crease at center fold).
First edition of this exceedingly rare photographic salesman sample catalogue for Champion compressors, and Champion air pumps for gasoline service stations, and industrial uses. The catalogue begins with two photo collages by Zacher & Co., commercial photographers in Chicago, who began as a pioneering firm in clay models for industrial design. The photos show images of the machine shop, assembly & texting department, factory, and offices. The second is a montage of numerous petroleum service stations that used Champion compressors and air pumps, including such companies as Standard Oil Co., Sommers Oil Company, Denver Powerine Company, Schonig Corporation Hupmobile, Comanche Gasoline, and White Rock Oil Co. The following images show the factory floor, the testing floor for air compressors, followed by S-1, S-3, R-5, K-7, K-14, S-5, R-15, R-25, S-6, K-11, K-23, and many other air compressors, and equipment. Of particular interest are the beautifully coloured air and water pumps at the end for Jazz Age service stations. Founded in 1919, Champion has long been one of the most desired manufacturers for quality reciprocating and rotary screw air compressor systems, with many dating from 50-80 years old still in use, and running today. The company was acquired by Gardner Denver Machinery, Inc. in 1996. No copies located in Worldcat.