Ringling Bros, and Barnum and Bailey Circus - Dec. 18, 1940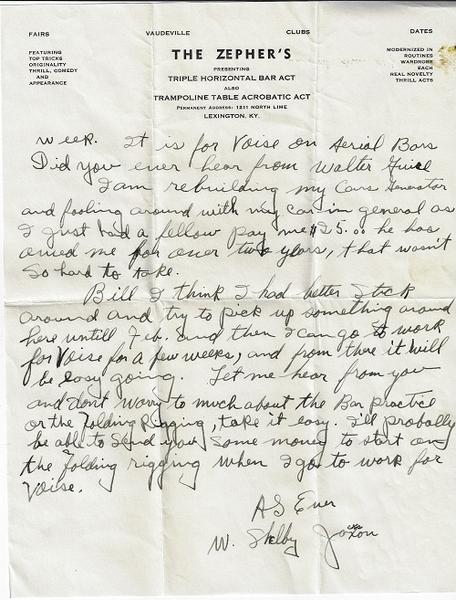 RINGLING BROS AND BARNUM AND BAILEY COMBINE SHOWS – DEC. 18, 1940
A wonderful letter with transmittal envelope written on THE ZEPHER'S stationary and addressed to W.H. Warner, 152 W. 12th St., Erie, Penn. Warner was the technical director of Ringling Bros and Barnum & Bailey Combined Shows, Inc. The three page letter dated Dec. 18, 1940, contains listings of acts, including triple horizontal bar act, trampoline table acrobatic act, fairs, vaudeville, clubs, etc. A reference is made to Voise who is likely Harold Voise, an aerialists and a member of the Flying Harolds. Voise and his wife Eileen traveled with Sells-Foto, Ringling-Barnum, Cole Bros, Polack Bros and the Shrine Circuses. Very readable and in very fine condition.
The letter in full:
Hello Bill,
I just received your letter. Sorry you are having a tough time getting the Boys up to practice. I also am having trouble finding some way to practice the Bars. The colleges are Basket Ball Crazy now and I can't practice nights and I have no one to practice in the daytime with me.
I just worked a one nighter. I used Big Blakeman as my partner. We were a little slow and stalled a bit but we went over 100% and got encores. So we didn't feel so bad.
The warehouses have closed until Jan 2nd and the Barrel Hog Factory has moved out of town. So, I won't get any work around here. If I had a Bar Act in shape ready to go, I could go to work tomorrow night for 4 straight weeks in clubs and then get a unit show. Blakeman wants to quit his job and go with me. But he needs two months straight practice before he would be presentable. He doesn't realize that I had a top and speedy act when I worked these spots before and that is what they expect me to give them now and I can't do it with him the shape he is in. So I am just letting it go. I have the triple ground bars all set and painted up and ready to go. They really look fine on a stage. I painted the bar tiles gold and shined the uprights and they are the cleanest, neat appear stage bars I have ever seen when set on a stage with lights on them.
I got a letter from a fellow in Chicago who just finished building a rigging that folds and has two bars. He wants me to work with him and furnish the car and split fifty-fifty. But he says the rigging folds down instead of together. I am not taking any chances as I have no way he has a practical rigging. He wants me to come to Chicago and practice a week and go to work but that costs money when you consider you also have to buy wardrobe and get photos made. So, I turned it down not knowing him either. Jake Crumley told him about me.
I have a job coming up in four or five weeks which will last about 5 to 7 weeks at pretty fair money. I have got to go out of town to see about it next week. It is for Voise on serial bars. Did you ever hear from Walter Guice?
I am rebuilding my car's generator and fooling around with my car in general as I just had a fellow pay me $25.00 he has owned me for over two years, that wasn't hard to take.
Bill, I think I had better stick around and try to pick up something around here until February and then I can go to work for Voise for a few weeks and from there it will be easy going. Let me hear from you and don't worry too much about the bar practice or the folding rigging, take it easy. I'll probably be able to send you some money to start on the folding rigging when I go to work for Voise.
As Ever
W. Shelby Jaxon